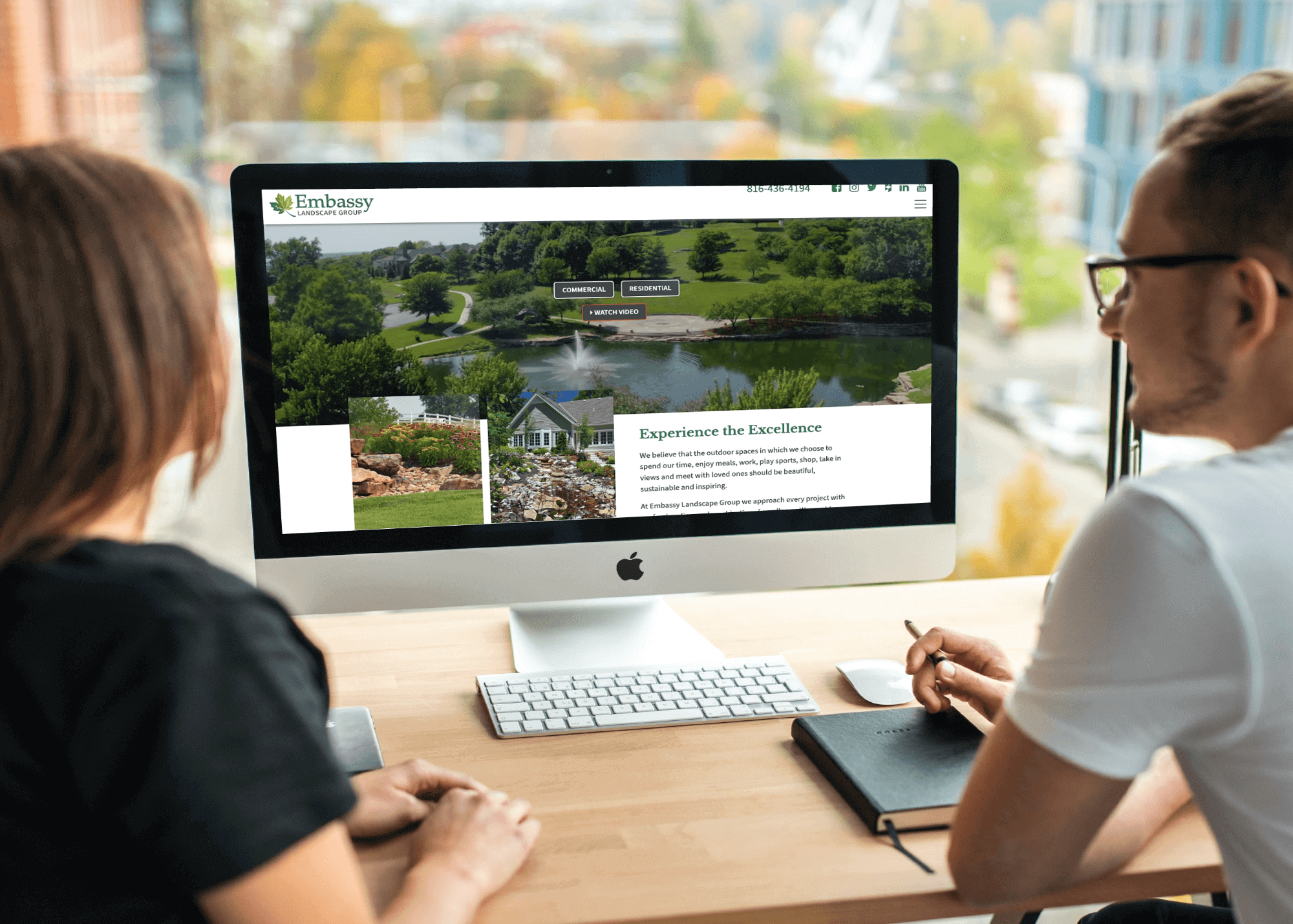 About Embassy Landscape Group
The Embassy Landscape Group was founded in 1979 and is headquartered in Riverside, Missouri. The LLC was created with the mission to provide exceptional service that builds value by creating, improving, protecting, and maintaining natural environments.
The company provides several award-winning services in both Commercial and Residential areas. Services include landscape management, design and construction, water management, and snow and ice control. For Embassy's commercial projects, their goal is to create the perfect setting for a business or institution. For residential projects, the goal is to create a design that fits the vision and the budget for homeowners.
JNT's work with Embassy Landscape Group includes custom web design and video production services.
Custom Web Design
JNT created a new custom website for Embassy Landscape Group in 2020. The new website design was made to provide a refresh to the company image, incorporate easier navigation tools, integrate user-friendly features, and update images. An updated navigation led to customers being able to access their information quickly about Embassy's residential and commercial services.
"We wanted to create a fresh, clean, and organized look for the business,'' said president, Daniel Nelson. These changes have provided us with several positive comments from customers."
Video Production
Providing top-quality videos for their customers is important to Embassy Landscape Group, Dan mentioned, "We understand people like videos. We are in a visual, creative business and it helps to showcase our work." A homepage banner does a great job of professionally showcasing projects, clients, and various work. Incorporating visual representations is a good way to communicate engagement and movement on a website.
For Embassy's service-based video series, it was important to highlight each commercial service to spruce up their commercial offerings and show their commitment to service and a high level of expertise in each field. These short videos provide another way for customers to learn more about what the business has to offer and what they can expect when the Embassy team shows up to complete the work as hired. These 30-second videos can be multipurpose in paid, organic or boosting SEO media.
Visit https://www.embassylandscape.com/ to learn more about Embassy Landscape Group and their services.

Make sure to check out and support their social media as well!