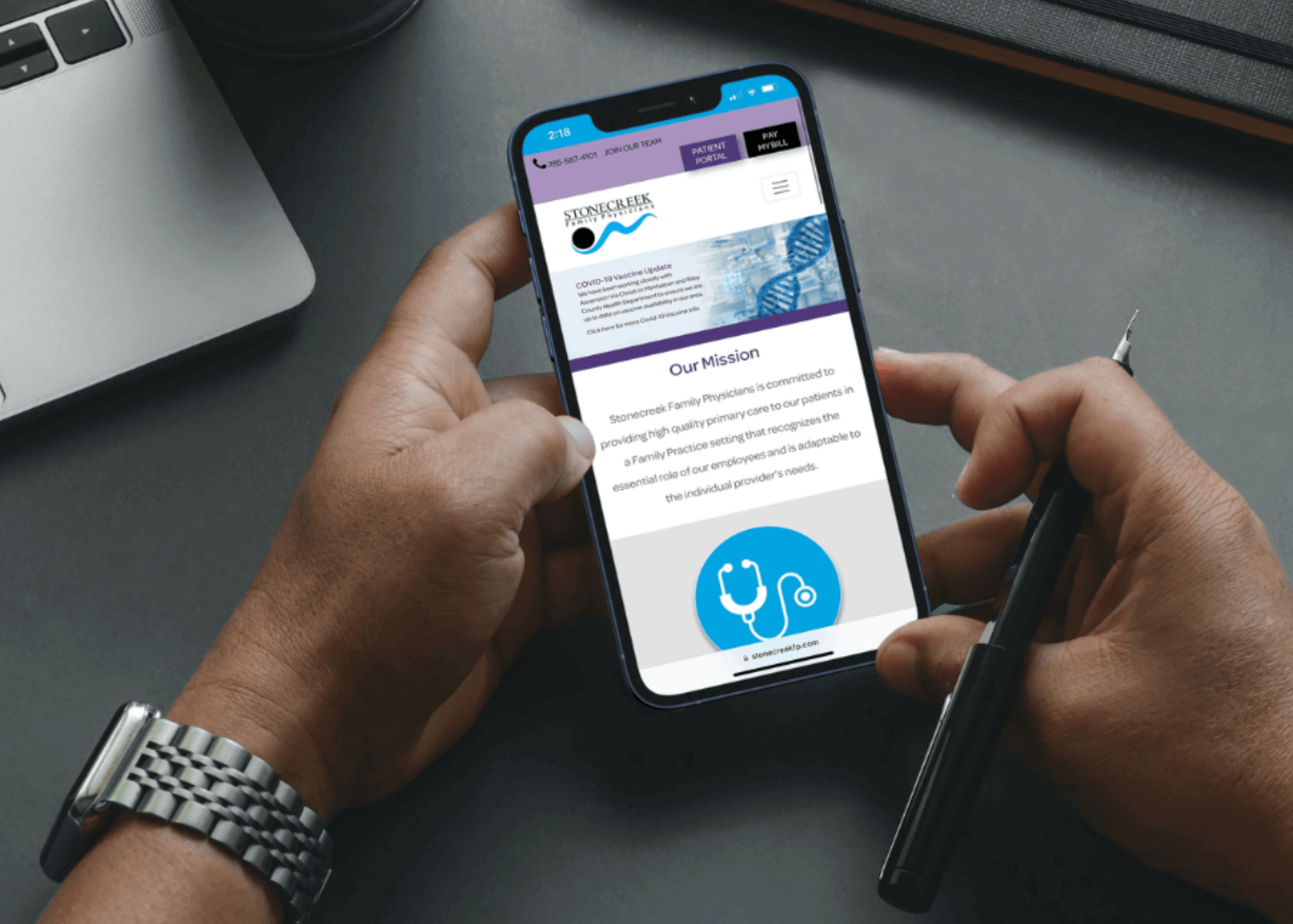 About Stonecreek:
Stonecreek Family Physicians was founded in 1999 by Dr. Kevin Wall, Dr. Douglas Hankin, Dr. Keith Wright and Dr. Debra Doubek with the mission to provide high quality care to patients in a setting that recognizes the essential role of employees and is adaptable to patient needs. Located in Manhattan, Kansas, Stonecreek Family Physicians is dedicated to providing the community with the best care.
In 2019, JNT worked with Stonecreek to build a custom website and manage their digital advertising.
Custom Web Design:
Stonecreek had an original website that was outdated and non-user friendly, with that they realized it was necessary to find a solution that better promotes their business and helps users to easily access information. Stonecreek Family Physicians decided to focus on building a mobile first approach to keep the website relevant on all platforms and create ease of access for web users. There was also a needed focus on the patient portal which would provide patients access to all their necessary documents, medication information, appointment bookings, telehealth services and more.
"The creation of this website led to a very smooth transition and process for our business," mentioned Jennifer Haefke, Administrator for Stonecreek Family Physicians, "We have received a lot more positive comments on our new website than from the previous one."
Digital Advertising:
With the new addition of their website, Stonecreek also decided to utilize JNT's digital advertising services in order to better brand the clinic and get the business in front of people making their health care decisions. Through platforms, Google and Meta, Stonecreek Family Physicians is able to drive valuable traffic to the website, expand awareness for the brand and reach new patients.
When asked about the growth of the business, Jennifer said, "I think the ads have accomplished what we expected, it has gotten us out in front of competitors and keeps us in the forefront of our patients."
To learn more about Stonecreek Family and Physicians visit their website at stonecreekfp.com
You can also check out their social media!