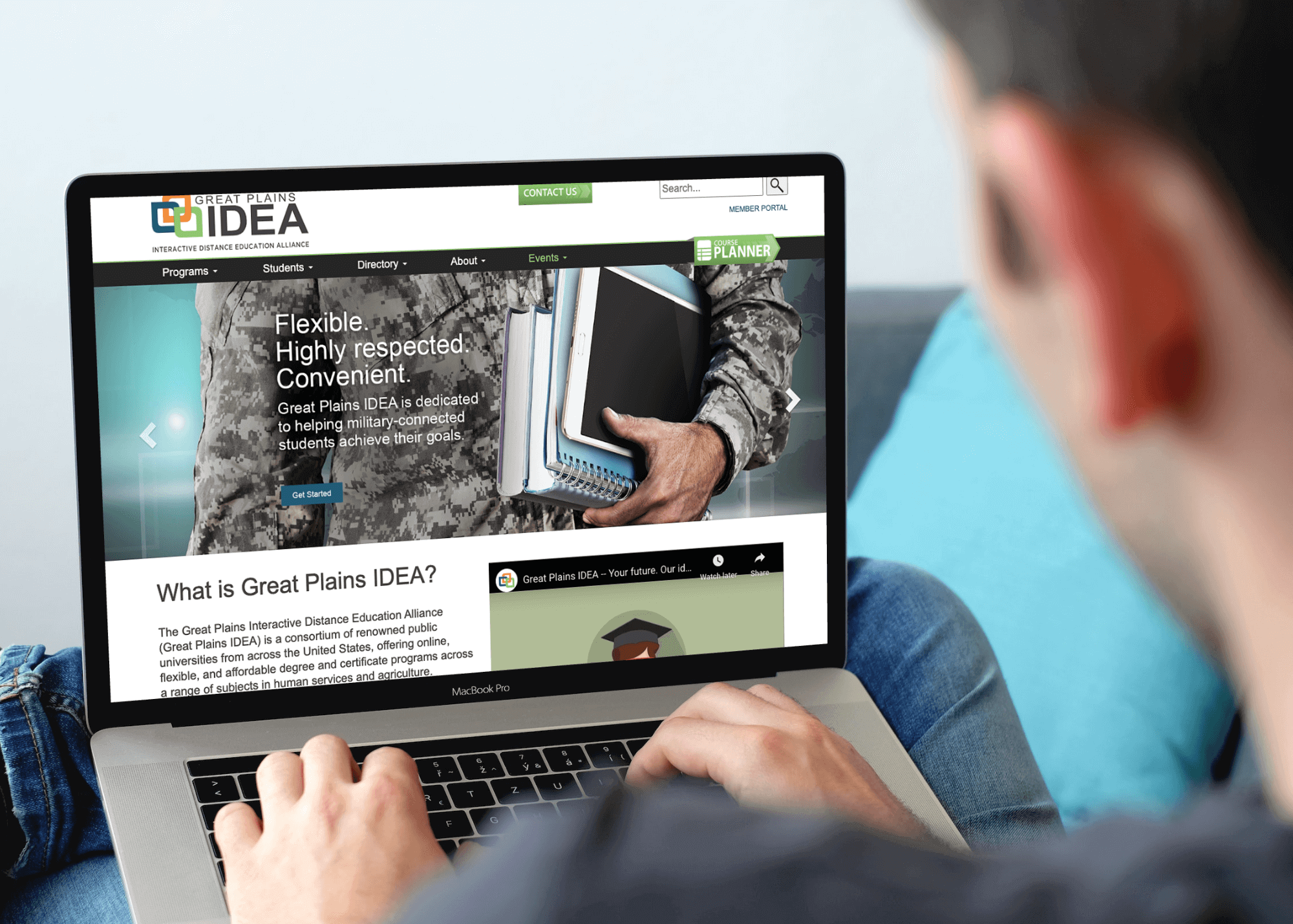 About GP IDEA:
Located in Manhattan, Kansas, Great Plains Interactive Distance Education Alliance, better known as GP IDEA, was founded in 1994 to educate rural professionals using distance technologies and shared courses.
Created with the mission 'to serve learners by offering online, flexible and affordable instruction for a virtual community of individuals from diverse backgrounds', Great Plains has teamed up with 19 public universities across the United States offering online degree and certificate programs to those studying human sciences and agriculture.
In 2017, JNT Company collaborated with GP IDEA to build a custom web design, custom web application, and video series.
Custom Web Design
GP IDEA previously had a website but found that it wasn't capable of connecting with their student information system, ExpanSIS. "We reached out to JNT because we appreciate their willingness to be creative when it comes to finding solutions", said Kathryn Harth, a member of the management team at Great Plains.
JNT worked to create a connection between the website and the information system by building different layers of information and placing them across the website. As a result, staff all over the country can enter information into ExpanSIS and it is viewable to faculty and students on the same day.
Custom Web Application
Great Plains IDEA manages all its information in a database hosted by Kansas State University. JNT worked with Great Plains to pull course information, instructors, and textbooks into their custom website.
The custom web application is a centralized interface for all university microsites and user accounts connected to the GP IDEA portal to manage programs and program tracks. This allows JNT to build pages displaying course information, instructor profiles, university details, and more without Great Plains IDEA having to re-enter the data.
Below are examples of pages where JNT combined this information.
https://www.gpidea.org/course-planner/community-development/masters-degree
https://www.gpidea.org/program/community-development/masters-degree
Video
GP IDEA utilized JNT for interview-style video production to use for recruitment purposes. JNT was asked to join Great Plains at its annual conference in Kansas City to record testimonials from students and faculty. Kathryn continued, "We were looking for videos that were new and fresh, but still connected to our tone and authenticity."
To learn more about Great Plains IDEA visit https://www.gpidea.org/!