Family and Implant Dentistry is Manhattan's top choice for dental care, specializing in family and cosmetic dentistry, and dental implants. They proudly provide high-quality dental care in Manhattan, Kansas, and twelve other surrounding cities. Their dental professionals have years of experience in dentistry and are prepared to help you meet all your smile needs and goals.
GOOGLE
Our partnership with Family and Implant Dentistry involves implementing Google Ads across the Search and Display networks to drive new patients, engagement, and interest in their cosmetic, restorative, and general services. By positioning them as the top provider in the area, we are able to drive meaningful conversions: growing their practice, and delivering meaningful results.
META
In addition to Google Ads, our partnership also was established by implementing successful campaigns that focus on the vibrancy and well-being of having a business help you reach your perfect smile. By communicating this across various placements on Meta Ads, our team was able to reach meaningful audiences by showcasing Family and Implant as the top provider in the area.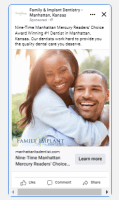 Check out
more of our work